What Is Phenoxyethanol?
August 02 2018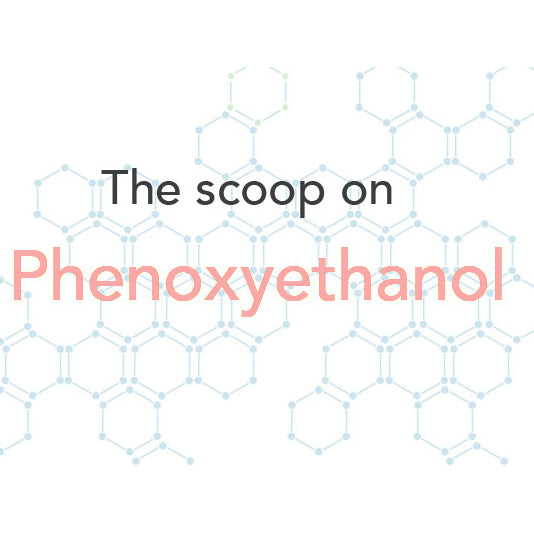 We are a full disclosure company. Our goal is to help educate you so you can understand chemicals and product formulations. When you're empowered with information, you can make the best buying choices for you and your loved ones.
Questions About: Phenoxyethanol
Description: Phenoxyethanol is a natural chemical that is also synthetically produced. It is naturally found in chicory or green tea, but the commercial ingredient is synthetically produced in a laboratory creating what's termed a "nature identical" chemical. Chemistry-ly speaking (no that is not an actual word), it's created by treating phenol with ethylene oxide in an alkaline medium which all reacts to form a pH-balanced ingredient.
How it Works: Fights bacteria, fungi, and viruses. The reason some personal care products use this preservative is to ensure the safety and longevity of the product. Many of our makeup products contain water and nutrient dense oils and botanicals. This mixture can create an incredibly hospitable breeding ground for microorganisms. Even if a product looks and smells fine, it can be swarming with bacteria or fungi. Effective preservatives are vital for ensuring safety!
Why It Is In Some Of Our Products: Our concentration of Phenoxyethanol is less than 1%. We use it in our Eyeliner Pencils, Eyebrow Pens, some Lip Pencils, and our Photoshoot CC Creams. It is in these products because they do not use the same natural preserving oils that are in some of our other makeup products. These natural preserving oils (Origanum Vulgare (Oregano) Leaf Extract, Thymus Vulgaris (Thyme) Extract, Olea Europaea (Olive) Leaf Extract, Rosmarinus Officinalis (Rosemary) Leaf Extract) tend to make cosmetics smell a little funky. We use a natural Vanilla scent to cover up the funkiness, but some of our customers do not like that smell. In the spirit of catering to more people, (and creating products that are 99 times better than drugstore products) we decided to use phenoxyethanol and come up with virtually scent-free formulations. Other prevalent accessible alternatives for these types of formulas include parabens and formaldehyde-releasing preservatives. Both are classes of chemicals with demonstrable evidence of potential health risks, whereas phenoxyethanol is considered very safe at low levels. Studies have shown it is safe on the skin and eyes and it is non-irritating and non-sensitizing at levels of 2.2% or lower while being effective at only 1% concentrations. The European Union and Japan both approve its use up to that 1% level and our formulas fall well below the recommendation at 0.5% or less (depending on the specific product). Phenoxyethanol is a very shelf stable preservative because it doesn't react with other ingredients, air, or light. 
The Handbook of Green Chemicals and also Whole Foods Premium Body Care has approved this ingredient for use. And, their standards, developed by a team of scientists over the course of years, are some of the strictest available. That is something to consider if these two credible sources give it a green light. 
Why We're Talking About It: We care about our customers more than anything. Our brand has been built on honesty and integrity. Our goal is to make you aware of what you're putting on your body, but also getting down to the science. It is easy to read misinformation on the web because there's quite a bit of online controversy about its safety. You'll find it being mentioned as everything from a developmental and reproductive toxicant to being linked to cancer. Fundamentally, it's poorly interpreted science.
Here's the real deal: Most of the studies that have found significant negative health impacts are based on full-strength or high-dose exposures. In real life usage, exposures are quite small. That's why it's approved at levels up to 1%. It's all about the final formulation.
We'd like to include a study that helped us understand more about phenoxyethanol – a study conducted on pre-term newborn babies finding a phenoxyethanol-based antiseptic as the preferred, gentle formula that's quickly metabolized by even a premature baby's system.
We'd also like to be clear- we validate your concern. This ingredient isn't perfect. But alcohol can be harsh and has it's limitations. Because of this, we recognize that phenoxyethanol isn't the ideal ingredient. For those reasons we are in the process of finding a replacement. Our commitment is to you and the environment. We are always striving to do better! 
Have any other questions or concerns about phenoxyethanol? We're happy to hear them and help you better understand this ingredient!
Learn more: