Great Debate: The Brush or The Sponge
February 05 2019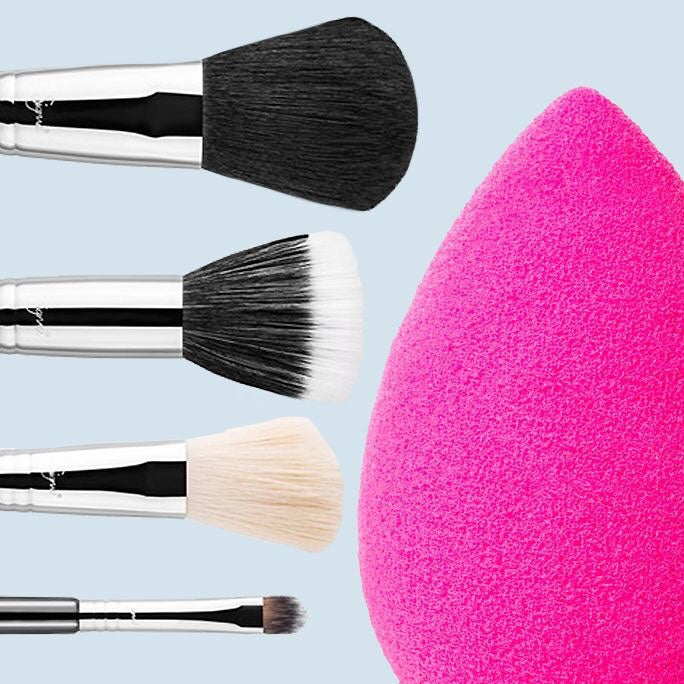 Most of us have mastered the art form that is our daily makeup routine. Our mastery is so top notch that we can be out of the mirror in less than ten, especially when we have our favorite go-to tools to help. For others, the application process can be overwhelming. There are so many tools out there to choose from. This brush does this, that thing-a-ma-bob does that. Is this really the best way to apply this? With so many tools available, one must ask if there is a proper way to apply makeup, and if so, which tools are the best? Should you use brushes or sponges? So the great debate begins. In truth, there really is no 'proper' way! There are pros and cons to each application process, and it will always come down to personal preference. As a makeup artist of over 10 years, I started with wedge sponges before the birth of our modern sponge, the egg-shaped blender. I also have a brush collection that would make most people's heads spin. But fear not! I'm going to break down the pros and cons of each, and let you decide which tools are right for you! 
Brushes
Brushes are known for their precision and ability to buff out product. They're also great to layer, set, blend, and define. Brushes are incredibly versatile for working with liquids, creams, or powders. I always recommend starting light and building up to the coverage you want. It is easier to add makeup than it is to take it away once it's there. Remember, with brushes it is easier to get a more concentrated amount of product. This means working to blend it out to prevent it from looking blotchy or streaky. There are hundreds of different brushes out there, however most brands have the same basics. Let's have a quick chat about what those are, and what they do.
Foundation Brush: These brushes are used to apply cream or liquid foundations. They come in several sizes. I prefer mine in a medium size in order to have more control around the sides of my nose and my chin. Again, I recommend choosing your brush based on your preference. 
Concealer Brush: After applying foundation, when going back with concealer, this is done with a smaller brush. This brush helps you to pinpoint and conceal imperfections, as well as dark circles or bags under the eye. Use this brush in a patting or dabbing motion to help set and blend.
Pro Tip: I choose two shades lighter for my under eye concealer to really hide my dark circles! Blend well.
Powder Brush: When it comes to a powder brush my motto is the softer and fluffier the better! These brushes are meant to disburse powder across the face in order to lock in or "set" foundation. These are also perfect for dusting on bronzer, and for those who prefer to, dust shimmer, or bronzer across the shoulders or decollaté.

Blush Brush: Now there is much debate on the proper use of a blush brush depending on the formula you chose to apply your blush in. For powder, we typically see brushes with long, fluffy bristles, similar to your powder brush but smaller. For creme blushes I prefer to use a blender sponge, however, if you insist on a brush I would choose one with long bristles so that the formula is easily picked up and buffed into the skin without any streaking. 
Flat Shadow Brush: These are great for transferring concentrated amounts of color onto the lids and for placing pigment. 

Pro Tip: Always tap excess shadow off before applying to lids. This will keep excess color from falling onto your cheeks and ruining your hard work.

Shadow Blending Brush: In order to get rid of hard lines, you need to blend. You will see these typically have long, fluffy bristles. This brush will help to diffuse color by blending out and buffing shadows, in order to help you achieve your desired look.

Eyeliner Brush: Specifically for the purpose of dipping the brush into a gel or liquid in order to line the eyes. 

Small Angled or Brow Brush: These are used to apply brow pomade and brow powder to your arches. Some are dual ended with a  spooley to groom the brow as well. 
Sponges
Similar to using a brush, a sponge can be used to blend out makeup, but by using a dabbing technique called "stippling". Stippling concentrates layers of coverage or color over certain areas. (Personally, I find that sponges give a more air-brushed finish to a look.) Before using foundation or other liquid products, it is best to lightly dampen the sponge. This gives you the ability to build to the desired coverage without streaking. Like brushes, there are a variety of sponges used for different makeup techniques (highlighting, contouring, etc.). Sponges soak up product unlike brushes so it is best to start with a little product and build up to your desired coverage. Blender sponges come in all shapes and sizes with varying attributes. Let's talk about what those strange eggs are for!
Rounded Butt: Yes, a round butt. That thing is beautiful isn't it? This area is used for blending your liquids or cremes onto the skin. You can choose between dragging the sponge, or dabbing it (a.k.a. stippling), to achieve your flawless finish. 
Flat Edge: Similar to your rounded butt, however some people like flat! Seriously though, It does make it easier to evenly distribute liquid foundations. 
Pointed Tip: This area is was designed to pinpoint areas to be concealed. By picking up and dabbing the tip onto an imperfection, you are able to distribute product and conceal. 
There is not a major or dramatic difference between the two when it comes to the end result, which should be fairly similar and well blended. In the end, I recommend you try both ways to determine your favorite. Trial and error will be the best way for you to discover which technique works for you. Practice will help you find your preference! I have always been a fan of mixing brushes and sponges because in the end isn't the goal to make everything work together?
Be sure to stay tuned for the release of our own blender sponge later in 2019!
Questions? Shoot us an email here.
Happy Blending!
-Amanda Kookoothe, MUA