Why Our Skin Care Works
January 28 2019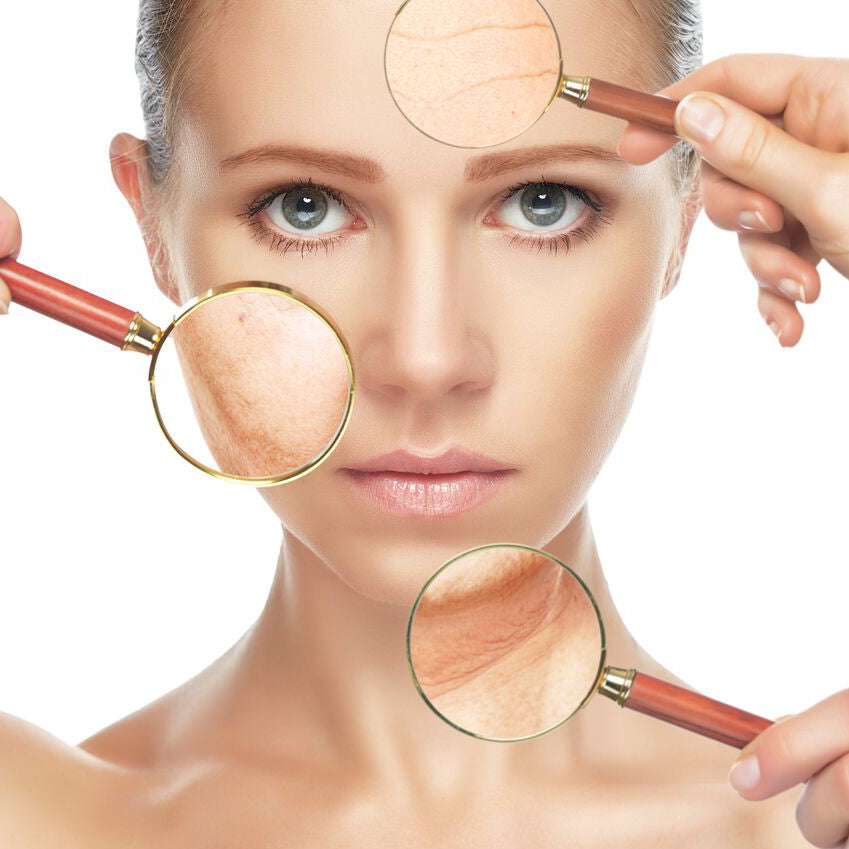 What's in BaeBlu skincare?
As consumers, we are flooded with daily ads suggesting we try this, telling us to buy that, but what do we really know about our skin care ingredients and how they perform? At BaeBlu, we've decided to break down some of our skincare for you so that you know the benefits of trying our line, and feel good about the decision you make to put our products on your skin.  
Antioxidant & Oat Moisturizer
Oats are rich in fatty acids and have antioxidant properties that help to undo free radical, UV, and pollution damage done to skin. Oats reduce inflammation, and help soothe itchy, irritated, sensitized skin. Oats provide a barrier against irritants to allow the skin to heal and to lock in moisture, acting as a buffer to help maintain the skins pH level. As an added bonus, oats help to brighten skin tone and to even texture. We use Organic Aloe Barbadensis as our main ingredient. Aloe is anti-inflammatory and soothing to the skin. Aloe is a humectant, which means it binds moisture to skin and prevents water loss. Aloe has also been shown to be effective in treating various chronic skin conditions such psoriasis, acne and eczema because of its properties. 
Kukui & Orange Blossom Cleanser
Kukui Nut Oil has a unique blend of fatty acids that help control and protect our skins natural lipid barrier. Kukui Nut Oil speeds up the skins natural healing process, seals in moisture, has anti-inflammatory properties, and can be beneficial to those with acne, eczema, and psoriasis. This cleanser also contains Bilberry Extract. Bilberry has become a key ingredient in skincare because of its anti-aging properties. Bilberry is known for its astringent qualities, its ability to cleanse, tighten, and to nourish the skin. Bilberry is packed full of antioxidants to help strengthen and protect the skin against free radical damage.
Aloe, Rose & Kelp Balancing Toner
Our Aloe and Rose Toner rehydrates skin with powerful plant-based extracts to help restore skin to its optimal pH, improving skin cell health, and overall complexion. Macro Yaris Purifera (Kelp) Extract is known for the "glow" it gives skin. Kelp is antiseptic, can help heal sun-damaged skin, and is currently being studied for its ability to repair and slow the formation of wrinkles.
Triple Tea & Argan Anti-Aging Serum
Our Triple Tea contains 3 different type of tea; Black Tea, Green Tea, and White Tea Extracts. Tea packs a heck of a punch because of its antioxidant properties. Tea extracts are anti-inflammatory, help to reduce free radical damage, can reduce UV-induced redness and sunburn, as well as reduce cell DNA damage. Our serum also contains Gotu Kola, which has been used in skincare going back to ancient times. Gotu Kola is known for its healing abilities, anti-aging properties, and most notably, its ability to stimulate and improve blood circulation. 
Refreshing Cucumber Total Eye Creme
Cucumber seems to be a reoccurring theme in eye cream going back decades. Cucumber contains Vitamin C and Caffeic Acid, both which help to soothe irritated skin, reduce swelling and inflammation, and prevent water retention. Our Total Eye Cream also contains Theobroma Cocoa Seed Butter. Cocoa Butter is rich in antioxidants and fatty acids that are essential for healing dry or damaged skin. Antioxidants in Cocoa Butter protect the skin from further free radical damage, and help to repair signs of premature aging. It's anti-inflammatory properties also help to soothe and reduce redness.
Cooling GingerMint Cleanser
Ginger Essential Oil tends to be seen in skincare geared towards people who struggle with acne. Ginger Essential Oil calms redness and kills bacteria associated with acne. Ginger has antioxidant properties that protect the skin to inhibit signs of aging, as well as skin damage that cause fine lines and wrinkles. In addition to its anti-inflammatory and anti-microbial properties, Ginger Oil increases skin radiance by fading dark spots and scars. Mint Extracts that are added to our cleanser have antimicrobial and anti-fungal properties, making it ideal for acne prone skin. Mint calms irritation and soothes, as well as helps to curb oil production.
Vitamin C Anti-Aging Serum
Oh holy grail of skin care ingredients we have reached you at last! Absorbic Acid aka Vitamin C! We have been preached to about Vitamin C for as long as we can remember. Vitamin C is chock full of antioxidant properties, and plays a major role in collagen synthesis making Vitamin C a vital molecule for optimal skin health. Topical Absorbic Acid is packed with antioxidants that prevent and undo free radical damage, and some studies have shown that Vitamin C may help prevent and treat UV photo damage. Vitamin C has also been proven to lighten, brighten and tighten skin. We pair Vitamin C with several other powerful ingredients including CoQ10, another powerful antioxidant, again fighting and repairing free radical damage. CoQ10 boots hydration, can stimulate the production of collagen and elastin, and prevent collagen breakdown. CoQ10 also has also been proven to reduce sun damage and even out skin tone.
Lemon & Aloe Clarifying Serum
Lemon is another ingredient packed full of Vitamin C and Citric Acid. Lemons lighten and brighten skin over time, neutralize free radicals, and boost collagen production. Lemon has astringent properties helping to keep pores clear, and skin looking smooth. We pair Lemon with Calendula Extract for Calendulas ability to treat wounds and prevent acne. Calendula Oil is know to be antiseptic, antibacterial, antimicrobial, anti-fungal, as well as anti-inflammatory! Calendula helps to speed up healing for acne blemishes. Calendula is another naturally occurring antioxidant that again helps to fight free radicals and boost collagen.
At BaeBlu we find that a little ingredient education goes along way. We hope that by informing you of how our ingredients work in our skin care, that you will continue to reach out, ask us questions, and try our products! 
Sincerely your BaeBlu Skincare Guru,
Amanda Kookoothe, LA