Best Natural Holiday Eggnog (Vegan Options)
November 28 2016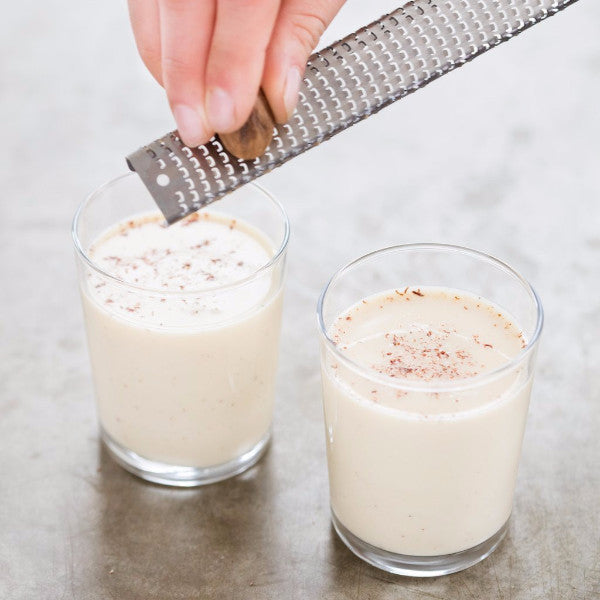 It's that time of year again. Mmm. The lovely fall colors, the crisp air, and the incredible holiday treats. We absolutely love all the delectable seasonal delights that come during the fall and winter holidays, but so many store-bought versions are highly processed and filled with a ton of chemicals. Our motto is the more natural the better. This last weekend we had some family in town, and we decided to try out an eggnog recipe with a few modifications. It was AMAZING! Check out the recipe below for our version, or find the original recipe here. 
Ultimate NOM Eggnog (alcohol free)
Serves 8
3 cups (700ml) organic, grass-fed whole milk
(replace with home-made cashew milk for vegans)
1 cup (240ml) organic, grass-fed heavy cream
(replace with home-made coconut cream for vegans)
3 organic cinnamon sticks
1 tsp organic vanilla bean
1 teaspoon freshly grated nutmeg
5 farm eggs, separated
2/3 (130g) cup erythritol 
In a saucepan, combine milk, cream, cinnamon, vanilla bean, and nutmeg. Bring to the boil over a medium heat. Once boiling, remove from the heat and allow to steep.
In a large bowl or stand mixer, beat egg yolks and erythritol until combined and thick ribbons form when the whisk is lifted. Slowly whisk in the milk and continue to mix until the mixture is combined and smooth. Add bourbon or rum, and stir. Refrigerate overnight or for up to 3 days.
Before serving, beat the egg whites in a large bowl or stand mixer until soft peaks form. Gently fold into eggnog until combined. Garnish with freshly grated nutmeg.
Do you have an eggnog recipe to die for? Share your favorite recipe in the comments below!