Skin Saving Fruits + Recipes!
April 24 2017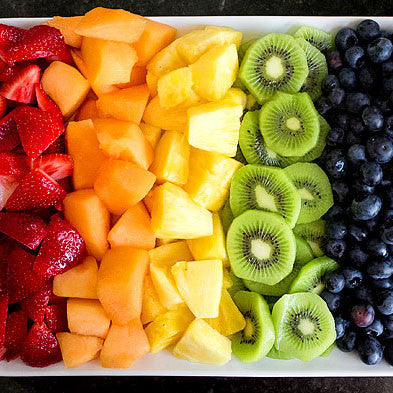 If you caught our recent
Instagram post
, you learned that watermelon is 92% water and 6% sugar, making it an ideal fruit to consume to boost hydration. Hydrated body = hydrated skin. So when life gives you melons...HA! Depending on the season or location, life may not always give you melons. The good news is that nature is abundant with options, so we have plenty of other rockstar fruits we can eat for gorgeous skin.
Lemons and Lemonade 
Lemons are high in vitamin C and have been used for ages to purify and detox the body. Most people just juice the inside, but did you know that the rind has many health benefits as well? The rind contains fiber, calcium, more vitamin C, and potassium. Even though the rind is bitter, you can add it to smoothies and drinks for added advantage. You can find an awesome recipe for strawberry chia lemonade
here!
 Acai, Blueberries or Gogi Berries
All of these fruits contain a high level of antioxidants. Antioxidant rich foods fight free radicals. Hear that term often? Free radicals are things in our environment that stress us out. These things range from toxic food products, smoke, exhaust... You name it and we probably deal with it on a daily basis. We know that stress causes premature aging, so the more we can load upon foods that mitigate these stressors, the better we look! You can try these berries in a variety of ways like smoothies or in your cereal in the morning. Load them up and see how vibrant you become! 
Avocado
These green gems boast tons of natural healthy fats that are good for your  insides and your outsides. Avocados are also high in vitamin B6 and vitamin C. The seed of an avocado actually contains 70% of its antioxidants, so you may also choose to consume a portion of the seed, bitter though it may be. You can eat more of these little fruits by whipping up some the best guacamole you will ever make
(recipe here)
. If you choose to use them on your skin, you can try mashing them up and using them for a mask. The fats in the avocado will leave your skin feeling utterly amazing and dewy.